Using NuWhite shower gel regularly will help women save their skin from the troubles called summer days.
In the summer, women often face many problems with the skin: hot weather makes the skin sweat, causing greasy shine, dirt quickly attaches to the surface of the skin, polluted environment or the body has a conversion in hormone content makes the skin looks tiresome. Besides, the skin is also affected by ultraviolet rays, so it loses moisture on the surface, causing the epidermis to basically create more melamine causing dark spots.
NuWhite was created since the desire of a shower gel to lighten dark skin areas and remove dark pigmentation on the skin, making the skin fair, smooth, beautiful naturally by combining with a method of showering with traditional milk system of royals in the past, which is the savior for Vietnamese women's skin in the hot summer days.
The unique feature of NuWhite shower gel is the ability to effectively lighten the skin with a special combination of 100% goat milk extract and extracts of fresh natural fruits rich in Vitamins A, B1 , B9, C. After each use, the nutrients in the shower gel will penetrate the skin epidermis, stimulate skin cells to regenerate continuously, combined with moisturizing ingredients at a natural level to help skin soft but not viscous or dry after showering, helpful to increase the skin's moisture, moisturizes effectually after a long hot sunny day. Fine bubbles creating ability helps remove dirt, sebum, sweat on the skin effectively, accompanied by a cool aroma, NuWhite brings about refreshing sense, relaxed, dispels all sultry summer days.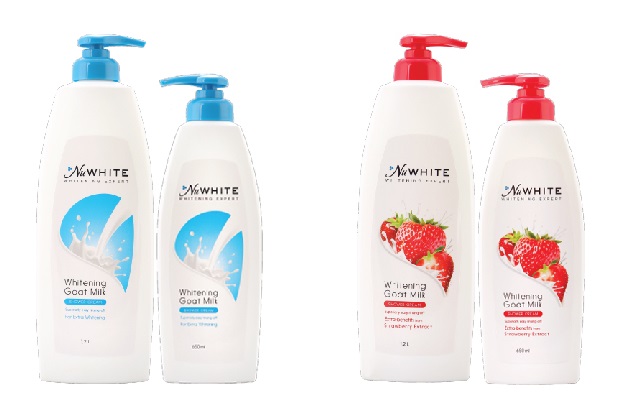 NuWhite whitening Goat Milk shower gel derived from refined Goat milk
Since its launch in 2016, NuWhite has become a shower gel brand for every household, trusted by a large number of Vietnamese women and gained positive feedback. That is also the impetus for the company to continue researching and developing new product lines to accompany and taking care of Vietnamese women's skin. Currently, NuWhite products have been distributed to supermarkets and retail stores across the country. Welcoming this summer, at supermarkets, NuWhite is implementing a special promotion program which is when buying a NuWhite Whitening Goat Milk 650ml, customers will get a free shower; or buy 01 NuWhite Whitening Goat Milk 1.2L shower gel, customers will get a free gift of Dr.Clean hand wash 200g or 01 tube of Dr.Clean non-hand washing gel 100ml. The program is applied for a limited number.