Cold pressed gac oil developed by Can Tho Techno – Agricultural Supplying Joint Stock Company (TSC) retains the concentration of powerful antioxidants in Gac fruit which are Beta-Carotene and Lycopene.
Gac fruit brings a wide range of benefits to health. The major pharmaceutical companies in the United States refer gac fruit to fruity panacea for health. Exploiting this potential, Can Tho Techno – Agricultural Supplying Joint Stock Company (TSC) has developed cold pressed gac oil which is qualified for European standard technology, processed through standardized sterilization, to ensure food safety and hygiene and retain to the fullest nutritional value before delivering to consumers.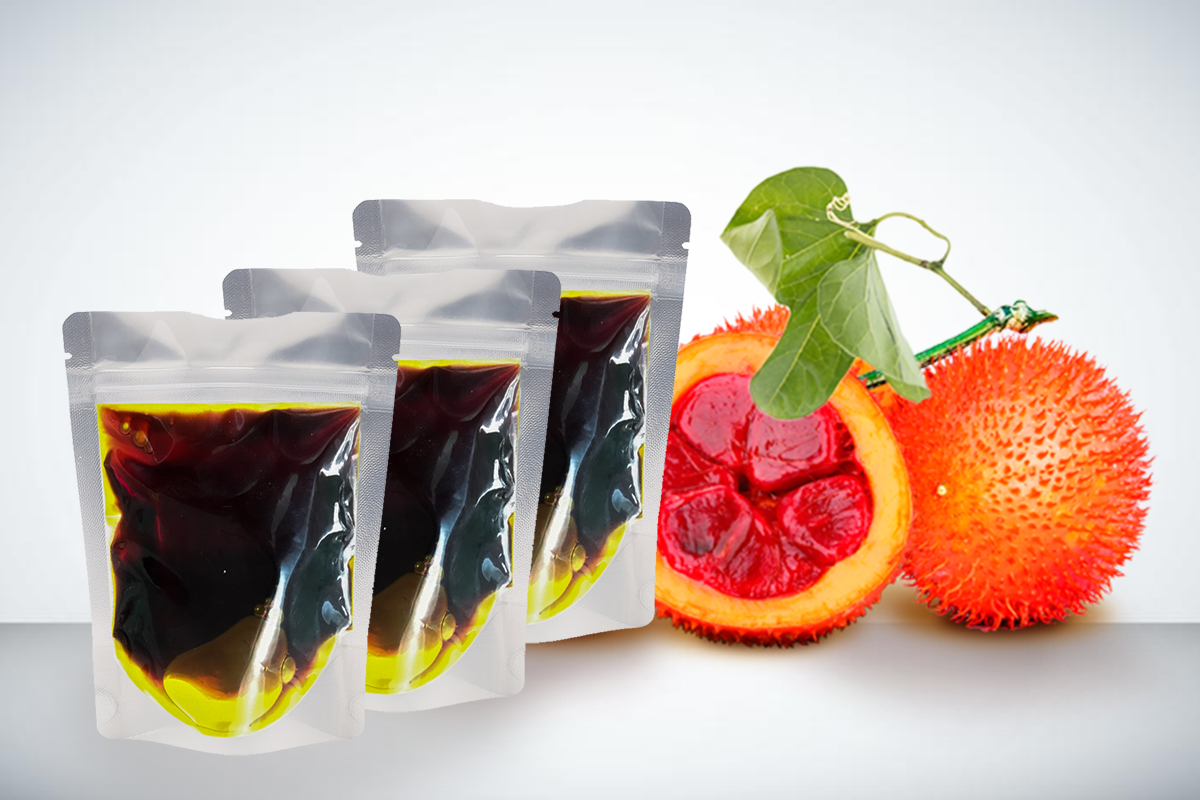 Gac oil contains a large amount of Beta-Carotene and Lycopene contents which are powerful antioxidants. Beta-Carotene (provitamin A) in gac fruit is 1.8 times higher than cod liver oil, 15 times higher than carrot. This compound is good for the eyes, helps to lighten the eyes and cure some eye-related diseases such as eye aches, dry eyes, night blindness and cataract. On the other hand, Lycopene is 300 times more antioxidant than vitamin E. Both Beta-Carotene and Lycopene have outstanding effects in preventing malnutrition and lack of vitamin A, especially for children and women, in antioxidizing, increasing the immunity of the body and neutralizing cancer-causing substances, anti-aging cells, supporting liver protection against oxidizing agents causing liver cell damage, impairing liver function.
Gac oil is also considered a useful food for people with excess cholesterol in the blood, helps lower cholesterol and lipid, very good for people with cardiovascular disease, diabetes, hepatitis. If you use Gac regularly and continuously, it will reduce unwanted cholesterol, stabilize the vascular wall, prevent atherosclerosis, thereby prevent strokes and give you a healthy circulatory system. Besides, Gac oil also works to remove freckles, prevent wrinkles, increase elasticity, contributing to better-looking and healthier skin.
Although Beta-Carotene and Lycopene concentration in gac are high, they are easily oxidized and reduced by factors from external environment such as light, temperature, oxidative damage. Therefore Gac processing must minimize exposure which causes active ingredient degradation. Gac oil developed by TSC by modern equipment and qualified for European standard technology is retained to the fullest the concentration of Beta-Carotene and Lycopene. It is perfect product to care and protect health in daily life.
In the future, with the goal of developing and diversifying its product lines to promote business efficiency, besides cold pressed gac oil, TSC will continue to develop more quality product lines. They are all aiming at enhance the health for Vietnamese consumers. With orientation and investment from FIT holding company, TSC's management and staff are striving to bring quality and nutritious agricultural products to the market, make TSC become one of the enterprises pioneered in enhancing value chain of smart agricultural products in Vietnam.