In the morning of June 16, 2019, Westfood organized the Grateful Employee Ceremony to reach the 5-year, 10-year, 15-year working anniversary at the company as well as the 16th anniversary of Westfood's establishment (June 18 2003 – June 18 2019).
Entering the sixteenth year, this year continues to be considered a milestone marking the growth and development of Westfood. From a small workshop that produces canned goods for small markets, Westfood now owns one of the most modern factories in Vietnam with 4 IQF lines, 2 canning lines coinciding with the European standard production technology and manufactoring  diversified agricultural products to many countries and difficult markets such as the US, Japan, South Korea and European countries … That is the result gained from the contribution of each individual and collective staffs with the persistent faith and ability to overcome all difficulties, challenges, determination and relentless efforts, step by step affirming the brand value and position of Westfood in the international market.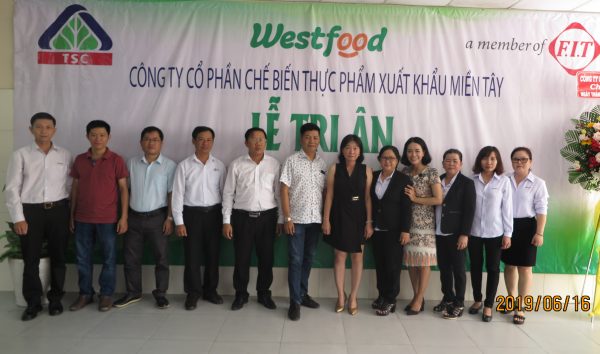 On the occasion of the sixteenth anniversary of the company's establishment, Westfood presented the honorary table with cash rewards to all 40 employees who achieved milestones from five years back up in order to pay tribute to the dedication of employees. This is considered a meaningful activity, a motivation for company employees to always work with the Board of Directors to strive for the common development of Westfood family.
Especially, since becoming a member of the FIT Group system, Westfood has received long-term investment and strategic planning from its parent company that supported it to have a strong transformation with outstanding progress. In the next time, the Board of Directors of the company will continue to manage to strengthen the brand in the existing markets and expand into new markets that contributes to raise Vietnamese brand name worldwide and head to the target of the largest canned fruit export and production company in Vietnam and reach international standards, so that it can be a model to build a reliable image of Vietnamese agricultural products on the international market.