Manufactured on advanced technology production lines from standard raw materials, Westfood's canned fruit products have conquered difficult markets such as Europe, America, Japan, Australia and South Korea.
Vietnam is one of the countries located in tropical climate zone, where very convenient for the development of a variety of fruits, and has great potential for expanding exports to countries in the temperate climate zone. This is a great advantage of Vietnamese enterprises, including Westfood.
Founded in 1992, Westfood Food Processing Export Joint Stock Company (Westfood) is a reputable enterprise in the field of manufacturing and exporting canned fruits to the world, such as pineapples, papayas, mangoes, mixed fruits. With the advantage of situated in the Mekong Delta – the birthplace of many tropical fruits, along with the autonomy for the input materials, products of Westfood are always ensured with high quality, export standard satisfaction in fastidious markets where demands for strict standards.
The pineapple material area of ​​Westfood
Especially, with the investment from the parent company – FIT Group, Westfood currently owns 2 sterilized canning production lines in compliance with European standards and many other modern equipment and facilities. Therefore, Westfood's canned fruit products have satisfied strict requirements on food hygiene and safety in the production process and have conquered many markets that require these strict requirements such as: Europe, America, Japan, Australia and Korea.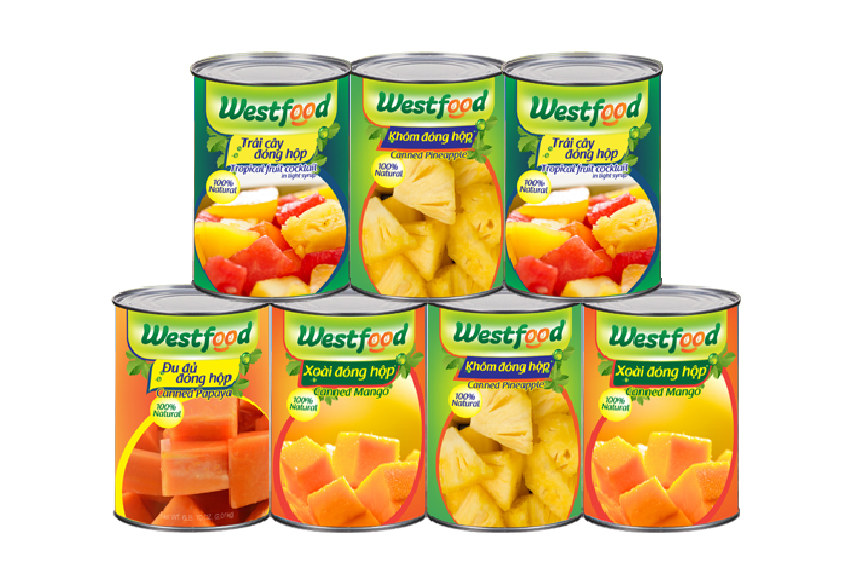 Some of Westfood's canned fruit products
With the advantage of controlled input materials, modern processing process, abilities to assure the hygiene and safety as well as maintain the freshness of vegetables and fruits, therefore minimizing processing time for consumers, in the near future, Westfood will put more efforts to improve product quality, to meet the increasingly diverse needs of the market. The company's goal is to bring Westfood to become the largest fruit production and export company in Vietnam, to meet International standards, and to be a model in building a reliable image of Vietnam's agricultural products on the international market.