On the occasion of the Launching Ceremony for Children 's Month of 2019 took place in Dien Khanh District, Khanh Hoa Province, Khanh Hoa Mineral Water JSC awarded 20 bicycles to poor students.
As usual, every year, with the desire to contribute to social activities and local development, Vikoda has awarded 20 bicycles to poor students in Dien Khanh district, Khanh Hoa province.
It is known that students who receive bicycles are poor and studious students in mountainous areas, rural areas with difficult circumstances and no tranportation to go to school. Therefore, this is a very meaningful and practical gift that Vikoda brings to students with the desire to encourage them to try to overcome difficulties, strive to study and practice well to truly become the future owners of the country.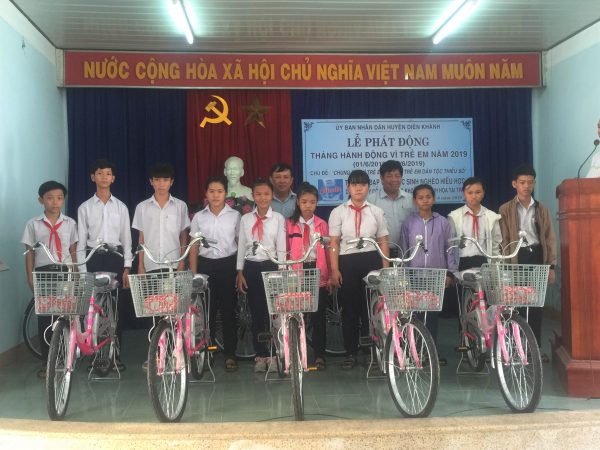 With the general orientation from the parent company, FIT Group is to implement the responsibilities of the business with the community and for the common development of the whole society, from the beginning of 2018 to now Vikoda and its subsidiaries in the same system. The direction of the Group has actively participated in many activities to bring value to the community such as the program of free examination and gift giving to the poor, visits and gifts for the elderly and disabled children; charity rice for patients …
Aiming to become a strong Vietnamese brand, contributing to improving the health of Vietnamese people, besides researching and developing quality products, Vikoda will continue to accompany many community activities and directions to build an image of an enterprise not only doing business effectively, but also the humanity as directed by the Group's leaders.