In response to Action Month for Children 2018 in Dien Khanh district, Khanh Hoa province, Khanh Hoa Mineral Water Joint Stock Company (FIT Beverage) donated 20 bicycles to impoverished but studious students.
On May 31st, 2008, a conference to launch Action Month for Children in 2018 which is organized by the Ministry of Labor, Invalids and Social Affairs was taken place at the People's Committee of Dien Khanh district. The action month this year was launched under the theme "For a safe and healthy lives of children in the digital world" aiming to raise awareness and responsibility of all levels, sectors, organizations, enterprises and individuals in the action of protection and care of children in the digital world.
Following the call of Khanh Hoa provincial authorities to the enterprises, Mr. Tran Van Phu – Deputy Director of Khanh Hoa Mineral Water Joint Stock Company – FIT Beverage attended the conference and presented 20 bicycles for poor students in Dien Khanh district on behalf of the company.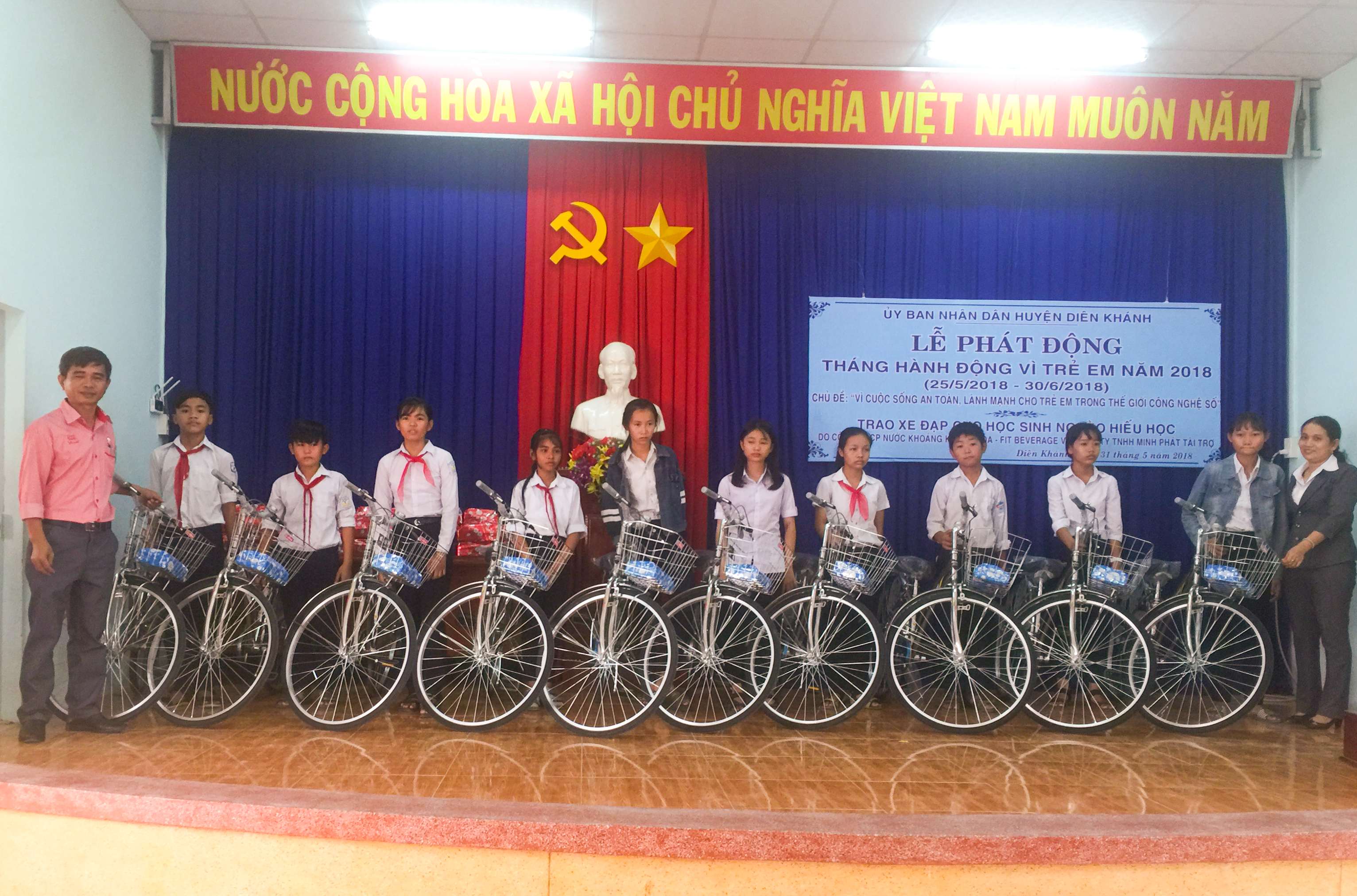 Representatives of Khanh Hoa Mineral Water Joint Stock Company (FIT Beverage) presented bicycles to studious students
It is known that the children who received bicycles at the conference were impoverished but studious students who live in mountainous areas, rural areas with difficult circumstances and there is no means to go to school. Therefore, those were very meaningful and practical gifts that FIT Beverage brought to students with the willing to motivate and encourage them to overcome difficulties, strive to study, practice well and to truly become the future owners of the country.
Ms. Pham Thi My Thi, a student of grade 7/4, Tran Nhan Tong Secondary School, representing students to receive gifts said: "I would like to send my sincere thanks to Khanh Hoa Mineral Water Joint Stock Company who sponsored us with these meaningful presents in the Action Month for Children. These bikes will be great vehicles for us to go to school, give us a great encouragement and support in the preparation for the new school year. "
The students are happy when receiving their bicycles
With the general orientation from the parent company FIT Group which is to fulfill corporate responsibility to the community and for the development of the whole society, from early 2018 up to now, FIT Beverage and its subsidiaries, under the direction of the Group, have been actively participating in many value-added activities for the community, such as visiting and donating presents for the poor, visiting and presenting gifts for the elderly and disabled children; donating charity rice portions for patients etc.
Setting the goal targeting to become a strong Vietnamese brand, contributing to improve Vietnamese health, beside research and development of quality products, FIT Beverage will continue to accompany with more community activities,  toward to build image as an enterprise who is not only have effective business  but also humanity as directed by the Board of Directors.