Manufacturing medical equipment is one of most three main business activities of Cuu Long Pharmaceutical Joint Stock Company and the company is focusing on expanding its market share to maximize the potential of this field.
According to statistics, the revenue of Vietnam's medical equipment market is estimated at about US $ 800 million per year. The average growth rate in the 2016-2020 period will reach around 18-20% / year.
Currently about 90% of medical equipment in Vietnam is imported; In which, the main suppliers of medical equipment to Vietnam are Japan, Germany, USA, China and Singapore accounting for about 55% of Vietnam's medical equipment import value. Domestic manufacturers are only able to meet the needs for basic medical supplies such as hospital beds or single-use devices.
Recognizing the great potential of the medical equipment manufacturing market, since becoming a member of FIT Group, DCL's medical supplies factory, Vikimco has received a huge investment in medical equipment, infrastructure, equipment and machinery from the parent company.
Currently, Vikimco factory of DCL has production lines for needles and syringes, automatic injection molding assembly lines, needle assembly lines, injection molding lines and modern and advanced machinery and equipment. imported from South Korea, reaching ISO 9001 – 2015, ISO 13485 – 2016, eGMP FDA 2015, with a total capacity of 13 million products / month.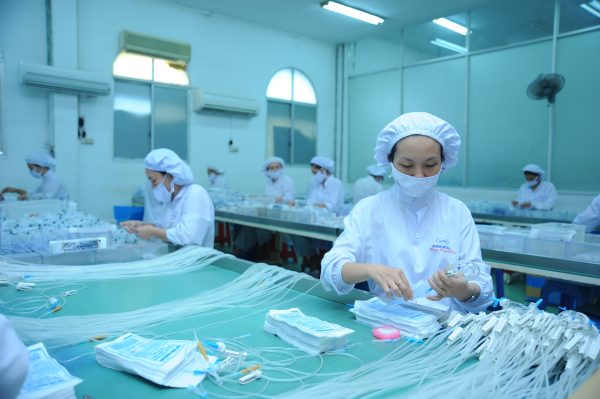 It is expected that in 2019, net revenue of medical supplies will reach VND 107 billion, up 24% compared to 2018, which is the field expected to have the highest revenue growth rate in DCL's categories (pharmaceuticals products increased by 10% and capsules by 22%).
With the strategy of focusing on expanding market share to maximize the development potential of the field of manufacturing medical supplies, it has shown the right direction of the DCL Board of Directors to ensure the strong and durable development.
Although at present, Vietnamese pharmaceutical enterprises are facing many difficulties and challenges, but with the strategic direction from the parent company FIT Group, along with the determination and efforts of the DCL BOD and DCL teams, there are steps to change to gradually become one of the leading pharmaceutical companies in Vietnam with the mission of Connecting and improving the life of the community through optimal health solutions.