With over 40 years of operating experience in the pharmaceutical industry, along with the priority for activities for the sustainable development of the community, therefore, Cuu Long Pharmaceutical Company sponsored the Science and Technology in 2019 conference in An Giang in order to share experiences and improve the effectiveness of treatment and serve for patients.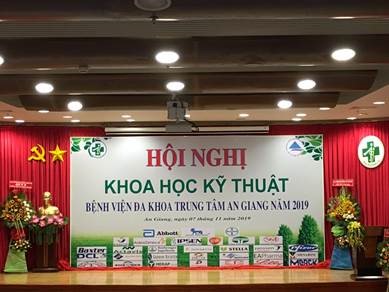 On November 7, 2019, An Giang Hospital held the "Scientific and Engineering" conference with the participation of more than 400 professors, doctors from Cho Ray Hospital, Thong Nhat Hospital (Ho Chi Minh City), An Giang Central General Hospital with the sponsorship of Cuu Long Pharmaceutical Company.
The conference is an opportunity for doctors, pharmacists, nurses of all hospitals in An Giang to publish scientific research projects; to share the experience of meaningful improvement initiatives from practical activities in medical examination and treatment in a year from a scientific perspective. At the same time, exchange and disseminate his experience for colleagues to learn together, apply to medical examination and treatment activities, improve the efficiency of care, treatment and serve patients better and better.
As one of the strategic sectors in the investment structure of FIT parent company, besides focusing on business activities, Cuu Long Pharmaceutical as well as other companies in FIT Group always appreciate the activities for community responsibility because of the development of society.
Since becoming a member of FIT Group, Cuu Long Pharmaceutical has a dramatic change and is gradually reaping good results from the process of restructuring, infrastructure investment in order to gradually step up to be one of the leading pharmaceutical companies in Vietnam, fulfills the mission of connecting and improving the lives of the community through optimal health solutions.