In late May, at the 2018 Gratitude Conference for Capsule Customer organized in Ho Chi Minh City, representative of the company, Mr. Nguyen Toan Thang – Deputy General Director in charge of business, announced that Cuu Long Pharmaceutical has completed the expansion of the company's production of hollow capsules.
At 2018 Gratitude Conference for Capsule Customer, held in Ho Chi Minh City at the late of May 2018, representative of Cuu Long Pharmaceutical Joint Stock Company, Mr. Nguyen Toan Thang – Deputy General Director in charge of business announced about the completion of the expansion of the company's capsule production line, in order to better meet the needs of customers as well as contribute to create more jobs for employees.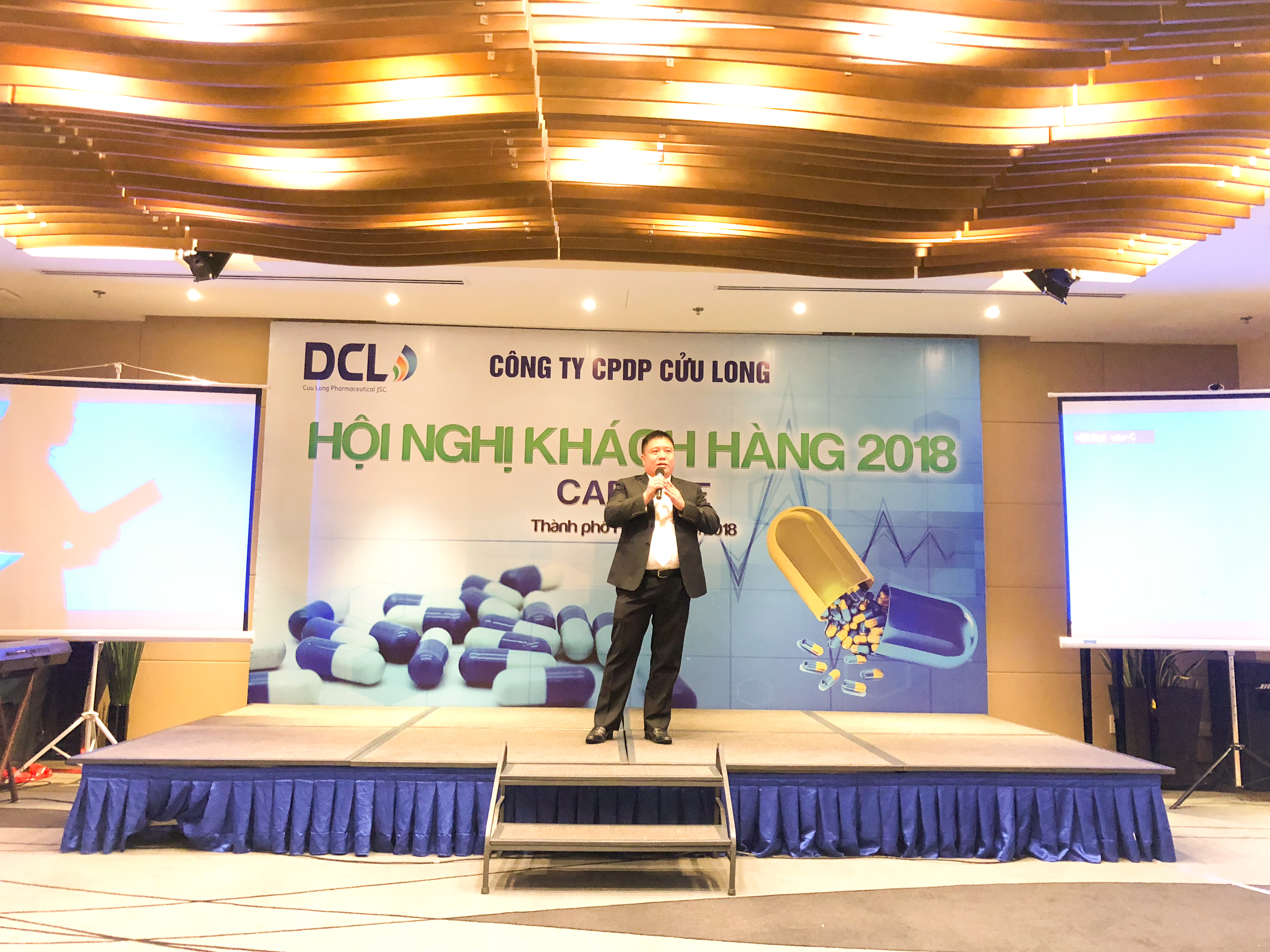 Mr. Nguyen Toan Thang announces the expansion of capsule production at the 2018 Capsule Customer Conference
 Currently, demand for hollow capsules for pharmaceutical and functional food industry is booming, creating great opportunities for pharmaceutical companies in Vietnam market. Cuu Long is a pioneer in Vietnam in the field of capsule production – an important input material for pharmaceutical companies and related industries. Cuu Long Pharmaceutical has two factories operating in this field: Capsule I factory with a capacity of 1.8 billion products per year and Capsule II factory invested in 2008 with a capacity of 2 billion products per year. The expansion of the production line will increase the production of Capsules by 5 million capsules in 2018. In addition, Cuu Long Pharmaceutical is also planning to increase the number of machines to 16 machines to spread the supply up to 8 billion capsules per year, facilitating Cuu Long Pharmaceutical to become the largest supplier of capsules in Vietnam. Although the capsule plant has been expanded, it is expected that it will not be able to meet the demand from the market. Therefore, Cuu Long Pharmaceutical will continue to invest in the expansion of its capsule factories this year.
Since becoming a subsidiary of FIT Corporation and become a strategic industry in the investment structure of FIT, Cuu Long Pharmaceutical has been oriented and invested with many big projects aiming at becoming the leading pharmaceutical company in Vietnam. With the mission of connecting and improving the life of the community through optimal health solutions, the Board of Directors and all of Cuu Long's staffs will do their utmost to improve their productivity of not only the hollow capsule production factory, but also other activities, making Cuu Long a leading supplier in the field of specialty and basic medicines, hard capsules and medical devices, to become the best-recognized pharmaceutical company by patients, employees and partners for its innovative, accessible and best-in-class products and services.