On 12th April 2019, Cuu Long Pharmaceutical Joint Stock Company (DCL) organized the Annual General Meeting of Shareholders (General Meeting of Shareholders) in 2019.
At the congress, shareholders agreed to approve the report of business results 2018 and business plan 2019; audited financial statements of 2018; report of the Supervisory Board on the company's activities; and some other related papers.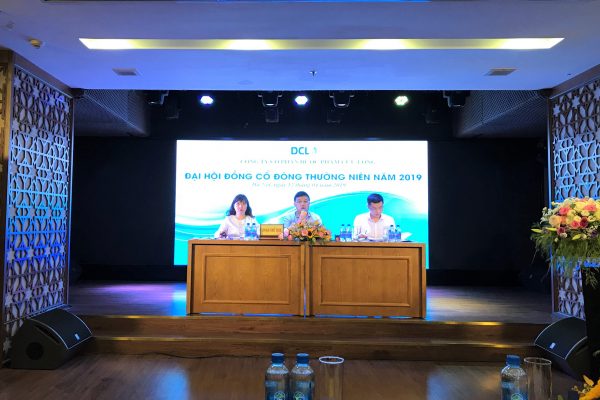 2018 was a volatile year of Vietnam's pharmaceutical industry as input prices increased sharply, some raw materials increased from 50% to 80%, causing many difficulties, affecting business results 2018 of domestic pharmaceutical enterprises, including DCL. Therefore, the net revenue of DCL in 2018 reached 804.2 billion, up 5% compared to 2017, reaching 83% the plan of 963.2 billion, profit after tax was 12.7 billion. In addition, Euvipharm is still in a period of unstable operation, which has affected DCL's after-tax profit in 2018. At the meeting, the Board of Directors reported to shareholders about the plan to divest capital at Euvipharm to ensure the general business activities of the pharmaceutical sector as well as ensure benefits for shareholders.
Also according to the report of the Board of Directors, in 2018, the total production output of pharmaceutical factories reached 1.182 million units, completing 94.3% of the plan, down 6% compared to the year 2017. The reason of the decline is because company is restructuring its product portfolio, adjusting production plans, focusing mainly on brand products, high profits, as a premise for developed plan for the following years. The production of capsule is always the advantage of DCL, in 2018, the company has produced 4.586 million capsules reaching 99.73% of the plan and up 22.6% over the same period in 2017. With The third factory started operation in mid-2018 to triple the current capacity, expected to contribute 20% of DCL's total revenue of 2019. In addition, the medical instrument factory in 2018 achieved 128.3 million products, equivalent to 97.2% of the plan and increased 0.23% compared to 2017. In 2019, DCL is researching Investing in a project to build a new medical material factory with modern technology to contribute to the increasing productivity and maximizing the performance of this segment.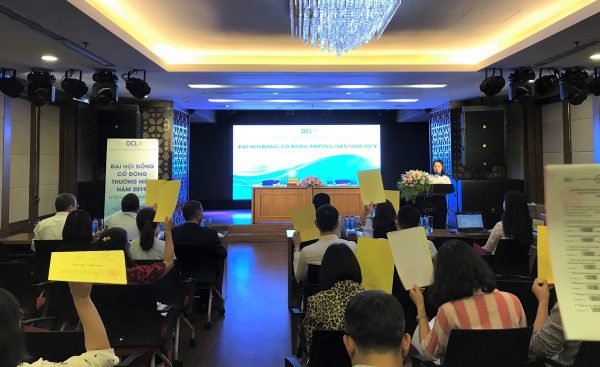 100% Sharehoslders agreed with all content of the meeting
With investment-focused projects, DCL in 2019 will overcome the current difficulties, and start reaping the fruits of the restructuring process, consolidating the governance system and thereby bringing benefits maximum benefit for shareholders. Benovas cancer drug project is gradually completing a visa application and can attend national scale bidding in 2020, contributing to the revenue of this segment.
Therefore, in 2019, the Board of Directors and the Board of Management set a target to achieve 949.5 billion net revenue, and accordingly the gross profit is expected to reach 297.6 billion and profit after tax will be 79,2 billion. According to this plan, besides large projects that are completed and put into operation, DCL will continue to invest in new projects to improve business efficiency. In addition, the company will focus on developing a sales system, training to improve personnel, focusing on building strategic products, having large sales and high profits or different, few product lines and continue to research and develop high-tech product lines.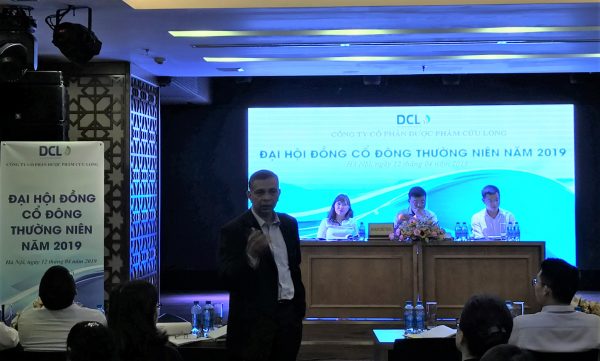 Mr. Nikhilesh Deshpande – New CEO of DCL giving a short introduction at meeting
Since becoming a member of FIT Group, receiving investment and strategic planning from parent company, DCL has made strong changes, able to implement big potential projects. With continuous efforts, DCL promises to gradually become one of the leading pharmaceutical companies in Vietnam, most appreciated by patients, employees and partners for products. and the most innovative, accessible and caring service, with a mission to connect and improve the lives of the community through optimal health solutions. And 2019 will be an important year when a number of projects are completed and put into operation, expected to contribute significantly to the increase in revenue for the company as well as other major projects that continue to be invested and started the part that sets the foundation for a solid development for the company in the future. In particular, by recruiting the new CEO, Mr. Nikhilesh Deshpande, an Indian, who has more than 18 years of experience holding senior positions at pharmaceutical companies in Vietnam, has shown the determination of The Board of Directors in raising the level and making DCL become one of the big names in Vietnam pharmaceutical market.