On June 15, 2021, representatives of Can Tho Department of Health given essential items for epidemic prevention and control in the area sponsored by FIT Group Joint Stock Company (FIT Group) with a total value of more than 296 million dong.
Specifically, FIT Group presented the Can Tho City Department of Health 3451 canned fruit products of the Westfood brand; 141 barrels of Vikoda natural mineral water; 305 barrels of Sumo energy mineral water; 1212 tube of Dr.Clean hand sanitizer gel; 60 boxes of Panalgan pain reliever and fever reducer and 1000 N95 medical masks.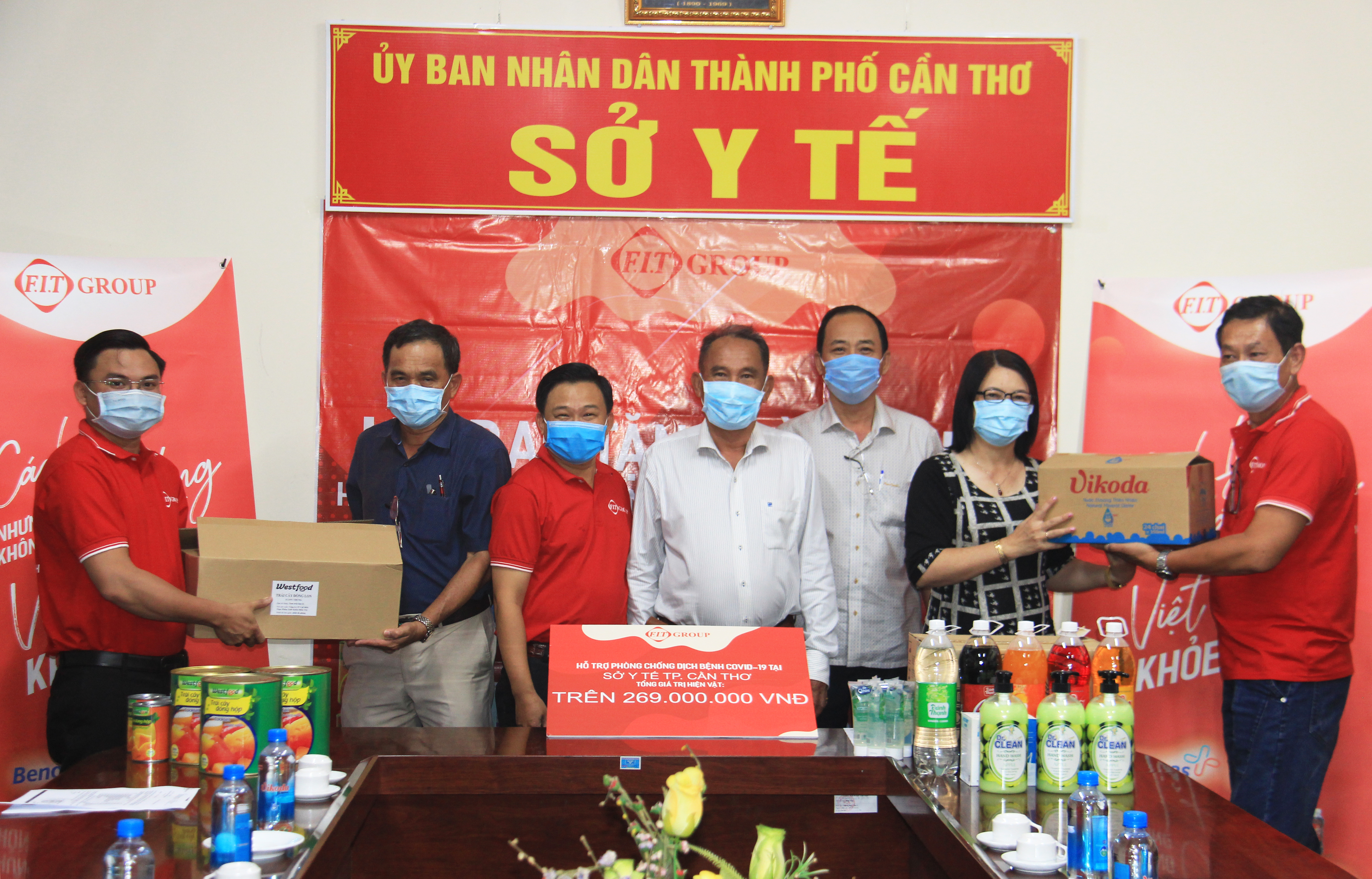 FIT Group's representative giving gifts to Can Tho Department of Health
Speaking at the reception, Mr. Pham Phu Truong Giang – Deputy Director of the Department of Health of Can Tho city emphasized: Can Tho is the capital of the Mekong Delta region, and also a focal point in the region with a large number of people from all over the country moving to Can Tho city. Therefore, the risk of an outbreak is very considerable. To control and prevent outbreaks in the area, the Can Tho health sector has advised the Can Tho City People's Committee to establish and mobilize forces, the entire socio-political system in the city to develop an epidemic prevention plan, especially at this time.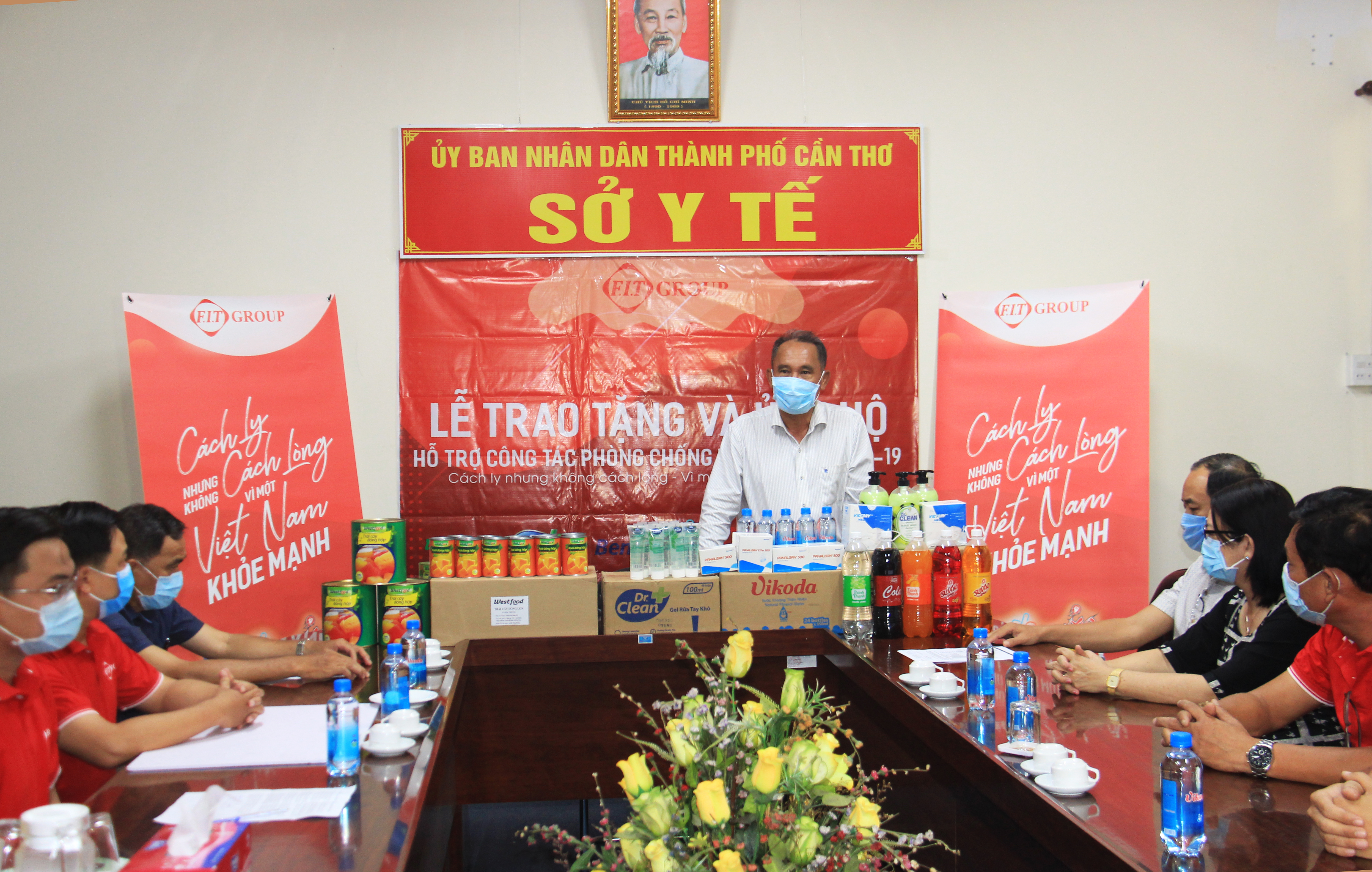 Mr. Pham Phu Truong Giang – Deputy Director of Can Tho Department of Health giving thanks to FIT Group
In addition to tracing, the Can Tho health sector has also implemented many other measures, such as developing a scenario where Can Tho city has Covid-19 patients in the community to respond and strengthen testing capacity as well as investment in equipment, products and consumables to serve epidemic prevention and control. Further, Can Tho City has started up the entire system, tracing teams in the community, regularly increasing the work of "going every alley, knocking door-to-door", checking people moving to the locality, so that follow-up the list to timely medical declaration.
Mr. Pham Phu Truong Giang also added: "With the gift that FIT Group gave, from the perspective of the health industry, we appreciate and thank you for that timely assistance. These are very necessary gifts, firstly is to support the forces food and drink , especially the volunteer ones. We have a large number of volunteers, around 2000 people. Then products such as hand sanitizer,  masks … these are essential supplies to equip frontline forces in epidemic prevention."
Support activities in Can Tho are in the 

campaign "FIT Group joins hands to repel" 

Covid – 19" by F.I.T Group and other companies in the system perform together with the total support budget over 10 billion VND.
The program has been deployed to diseases 

Hospital, Department of Health, Vietnam Fatherland Front Committee, CDC .. at 
hot spots throughout the country such as Vinh Long, Hanoi, Ho Chi Minh city, Ha Nam, Thai Binh, Bac Giang, Da Nang, Khanh Hoa…
With the slogan "Isolation but not seperation – For a healthy Vietnam", supporting campaign is still in progress to many other provinces and cities nationwide.