By 2019, Khanh Hoa Mineral Water Joint Stock Company (Vikoda) – FIT Beverage has entered a milestone of 29 years of establishment and development. The company is gradually bolstering its Natural Mineral Water brand in Vietnam beverage market.
On January 19, 2019, Khanh Hoa Mineral Water Joint Stock Company (Vikoda) – FIT Beverage celebrated the 29th anniversary of founding with the participation of the Board of Directors, partner's representatives,  valued customers and all company's employees. Giving speech at the ceremony, Mr. Nguyen Nhat Hoang – General Director said thank you to each department and division for their efforts to complete the tasks in the past and encouraged each officer and employee to continue to overcome all difficulties and challenges to fulfill the goals in 2019.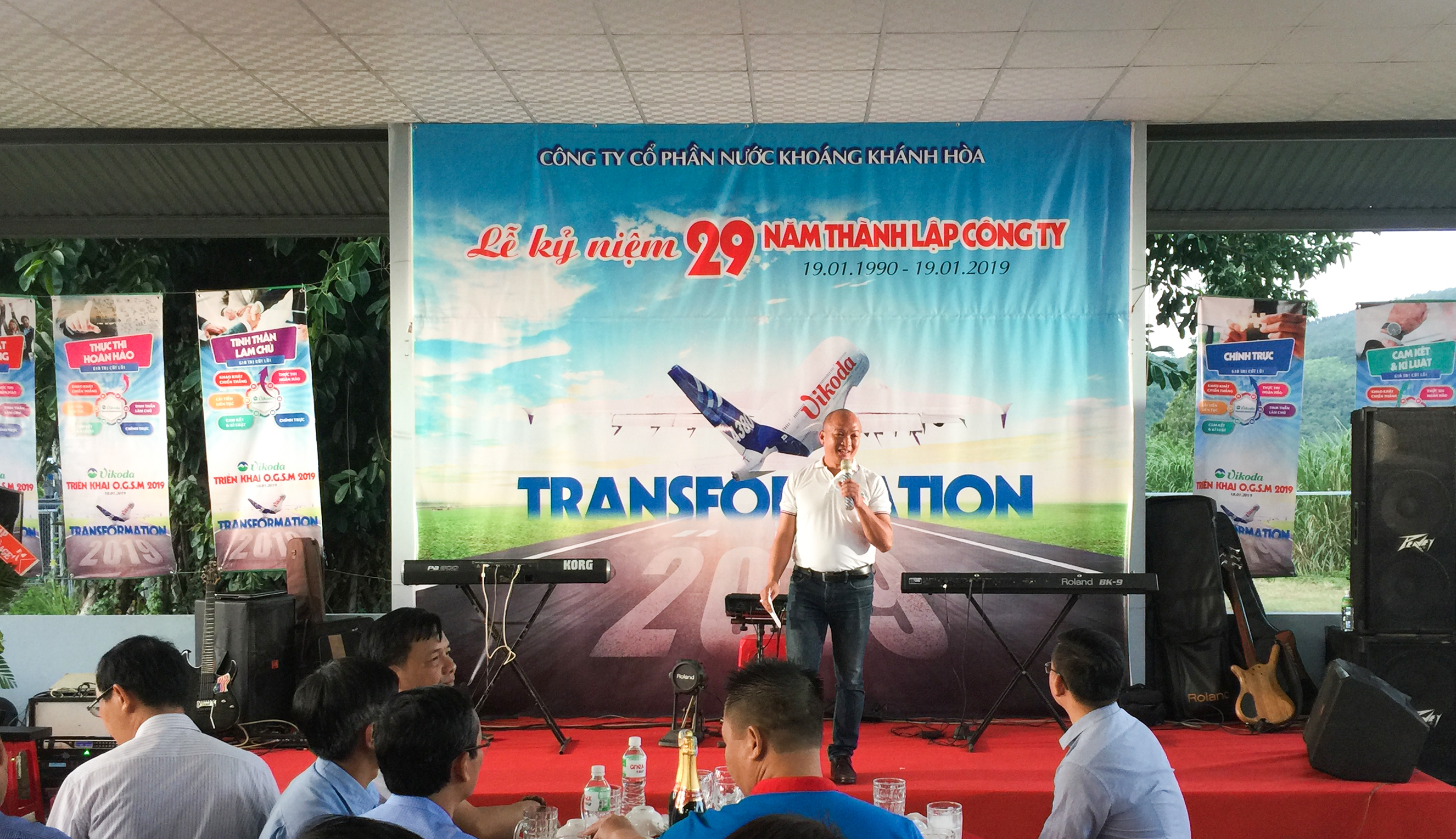 With topic of "Transformation", leaders and all employees of FIT Beverage have expressed their commitment and determination to bring the familiar and beloved brands in the minds of consumers nationwide such as Vikoda and Danh Thanh to a new level, becoming an international brand, making Vietnam's natural mineral water resources reach out to the world. It can be said that since 2018, FIT Beverage has undergone major changes including creating new designs for a range of products of more attractive and modern design, along with diversifying in product chain with the introduction of new types of drinking water products such as bird's nest drink, sarsi drink aiming at meeting the various demand of the market. With the current strategy and intensive investment, FIT Beverage promises to make breakthroughs in its business in 2019, gradually becoming one of the leading brands in Vietnam beverage market.
Since its establishment, FIT Beverage products have always been highly valued by natural mineral water lines, which are directly exploited in mineral water mines, benefiting users' health. Especially in 2017, Vikoda mineral water of FIT Beverage has proudly become one of the drinks used in the APEC Summit which taken place in Danang, contributing to bringing the Vietnamese brand to international consumers. .
With a long history of development and recognized reputation, along with strong investment from the parent FIT company, in the coming years, FIT Beverage will continue to have big "transformation" to become a top prestigious name in Vietnam. Thereby, company will fulfill the mission to bring Vietnam's wonderful natural mineral water to the world. With what FIT Beverage and leaders are trying to do, in 2019 with a milestone of 29 years of development, will be the start of great breakthroughs that will help the company achieve the success it expected and continue to develop the company greater.