FIT Cosmetics held the appointment of Mr. Nguyen Thien Phuoc as General Director of the company. Mr. Nguyen Thien Phuoc has many years of experience in consumer goods. With the appointment of the new General Director, FIT Cosmetics expects Mr. Phuoc to bring FIT Cosmetics to the next level to become the top five consumer goods companies in Vietnam. And this is the strategy that the parent company FIT Group has set and orient for FIT Cosmetics, putting FIT Cosmetics into one of the Group's key leadership positions.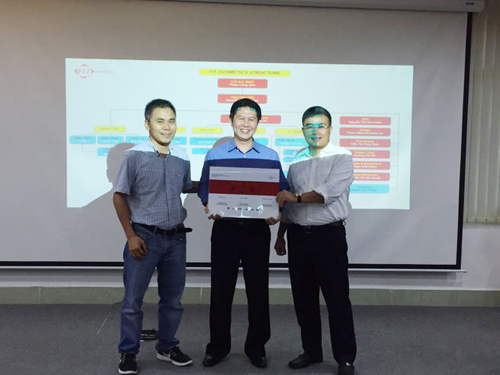 Speaking for new duties, Mr. Phuoc affirmed that he would continue to bring the business of the company to grow with the better quality of products and services, to get the satisfaction of customers as the target striving, to make a stronger change in developing new products to become the reliable companion of Vietnamese consumers.
Mr. Nguyen Thien Phuoc is an experienced manager who used to hold important positions in big companies such as: Assistant Manager of Taisho Japan Company; Chief representative of export markets to USA and Cambodia of Acecook Vietnam; Branch Director, Deputy Director, Business Development Manager at Mansan Group. Prior to his appointment as General Director, Mr. Phuoc held several years as Commercial Director at FIT Consumer.
The appointment of qualified, experienced personnel in key positions is part of the plan to consolidate the governance, facilitate the implementation of the business development strategies program in 2017 – 2018 and strategic vision to 2020 of FIT Group, as well as clearly demonstrate the human development strategy, emphasize the importance and great investment in the human resources of the FIT Group's Board of Directors.
With the current growth of FIT's development and the foundation of human resources, FIT increasingly shows the potential for strong development and is gradually affirming the prestige of a powerful corporation in Vietnam.