FIT Cosmetics with green, clean, environmentally friendly products and user health protection such as Tero biological dishwashing liquid, Tero neutral washing, … has confirmed the right direction that the company is following.
Today, the trend of using environmentally friendly products has become part of the daily life of a large segment of consumers around the world. According to Cognis Specialized Chemical Supply Company (headquarter in Germany), users' needs for environmentally sustainable solutions and environmentally friendly products have recovered very quickly, remain stable in developed markets and continue to grow in emerging markets. Market analysts say that this is the result of truly strong global awareness of the sustainability and environmental friendliness of consumer products – this trend has taken root in awareness of many consumers, not only as a fleeting trend. Therefore, in the world today, many companies have invested in developing green technology, promoting environmental friendliness and solidity, especially the company operating in the cosmetics manufacturing industry.
For example, Dupont Tate & Lyle (USA) is producing Zemea from corn sugar, a glycol substitute with 100% natural ingredients, which can be used as a solvent or substance moisturize in skin care products, hair care, deodorants and other products. In clinical trials, Zemea does not cause itching or irritation, it also proves to have good moisturizing properties and is a very good cosmetic for the skin.
Or Arch Personal Care Products (USA) produces Metabiotics, an anti-aging agent extracted from Brazilian crops, and an emollient and moisturizing agent, extracted from African bark oil, with Anti-inflammatory properties. Currently the company is producing enzymes to extract the active ingredients only from a small part of the plant, such as leaves or roots. This technology allows to reduce the need to use large amounts of crop biomass to obtain highly active biological extracts, reducing CO2 emissions as well as the need to transport large amounts of plant material.
It can be seen that in the future, environmentally friendly products can become essential needs in human life. This trend is opening up new challenges as well as new opportunities for companies in the industry producing cosmetics and body care products.
Neutral washing Tero
Understanding this global trend, since becoming a member of FIT Group, FIT Cosmetics has been strategically oriented in developing environmentally friendly and safe products for users. Therefore, the green, clean and safe product lines of the company such as: Tero biological dishwashing liquid with 100% ingredients from natural enzymes, Tero neutral detergent, have been the favorite choice of consumer in Vietnam.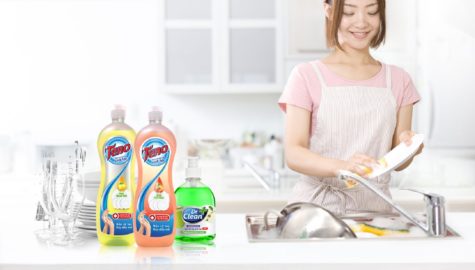 Tero biological dishwashing liquid with 100% ingredients from natural enzymes
Up coming, with the investment and orientation from FIT Group, FIT Cosmetics will continue to research to improve the quality of existing product lines as well as diversify new product with outstanding features and superiority, help FIT Cosmetics continue to affirm its name and prestige in the market as well as improve the mission of connecting and improving the lives of Vietnamese people through quality product, environmentally friendly and safe for consumers' health.